Got a new album out? That means you want people to hear it, and like it or not you need the media to help. With careful selection and approach to the right channels you will quickly see the awareness of your band grow and your sales soar. 
So put aside a certain amount of albums you want to give away. It will cost you money, but it's a great investment. You might start with 20 physical copies of the album for radio and 20 for reviews, plus allocate a further 20 for downloads. Where possible, take the online download route to save on costs and postage. 
Also set up a spreadsheet to keep track of who you have sent them to, who has treated you well and who has been a waste of time. This will help you out next time you have a new release to send to the most appropriate places. You can also include details such as postal addresses, emails, websites, contact names and any relevant info so you don't have to hunt it all down again next time. Building a big database of contacts and information is invaluable! 
Scoring radioplay or a nice review is worthy of promoting, so share the details on your website and social media and tag in the show/reviewer so they can share it too!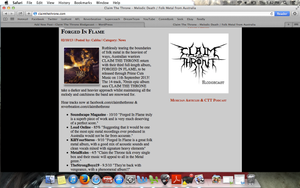 RADIO 
Choose your target market and do some research into the most relevant radio shows for your band. For example, you might want to start with the Australian market and focus on shows that will accommodate metal bands. That narrows down your search, so you can look Australia-wide for metal shows, and trust me, you will find a few gold ones that you didn't even know existed! You can also put a call out from your website and social media, asking radio stations to get in touch if they would like a copy for their show. 
Next up, find the best way to get your music to them. You might get their details from a website, or send an email or make a call. You can send them a CD in the post, or email them a download link. More and more people are using dropbox too, so look into that as an option. 
When these shows play your songs, you should keep track of their playlists. Many shows will email them to you, but some you may need to visit their website to check. You never know when these might come in handy… labels, promoters, grant applications.. people want to know where your music has been exposed! 
REVIEWS 
Album reviews play a huge role in establishing how good your music really is. Sure you'll get some good reviews and some crap reviews, like every band, but you can get some invaluable feedback to bear in mind for the next recording. Keep track of all the good ones and use them as promotional tools, posting all the good scores and quotes on your website and social media to entice people your band is worth checking out. These good reviews will also be great when approaching professionals like record labels, promoters and grant applications. 
Reviews can appear on webzines, blogs, videos, podcasts, print magazines and street press. Do your research and choose the most relevant ones for your band, then take some time to find the best way to get your music to them. Read their websites, send an email or make a phone call to find out if they will review you and whether they prefer physical copies or downloads. 
Some reviewers might also be keen on hooking up an interview or feature article to coincide with the review. This is definitely worthwhile to give potential fans the chance to hear about your music, discover a background of your band and become directly linked on where to purchase your stuff. 
WHAT TO SEND 
Post – CD, cover letter, bio and upcoming gigs. Be friendly and give them all the info they need to promote your band.  Just a simple note is great, such as "Hi, please find enclosed our latest album for consideration to play on your radio show. We suggest tracks 3 and 5, and we have included a bio with more information on the band. Thanks for your time, we are contactable on band@email.com. 
Download – Full quality audio of the album (MP3 of WAV), bio and upcoming gigs. Plus a cover note similar to the above when you email them the link. 
So good luck, be persistent but clever! Embrace and promote the good feedback, take on board criticism and disregard the irrelevant. Your band is now out there. The truth is out there. 
Cheers 
Cabba