TICKETS ON SALE AT OUR WEBSTORE FROM MARCH 19!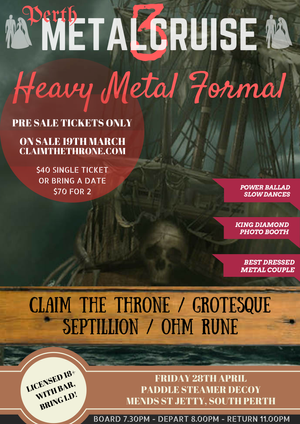 Heavy tunes, cold drinks, and a view of the Swan River 
The third installment of the PERTH METALCRUISE is here! 

With two previous sold-out events in 2009 and 2013, this local metal river cruise oozes with good times and crazy memories. This is no ordinary gig! 

The 3rd Edition of the cruise comes in the theme of a HEAVY METAL FORMAL. Grab a ticket for two, chuck on your fanciest flanno, and be in the draw to win metal couple of the evening! That is of course, if you can find a date.. 
 
Featuring 4 awesome local metal acts live on board! 
CLAIM THE THRONE – Melodeath/Folk with aussie party vibes 
GROTESQUE – Brutal Technical Death Metal 
SEPTILLION – Melodic Blackened Death Metal 
OHM RUNE – Huge sounding 2-piece stoner desert metal 
Prizes for best-dressed and maddest metal couple 
Slow dance competition to heavy metal ballads 
Take metal selfies in the King Diamond Photo Booth 
Rock up in a limo for extra special treatment 
PRE SALES ONLY – NO TIX AT DOOR – LIMITED TO 150 
$40 SINGLE TICKET / $70 DOUBLE TROUBLE 
TICKETS ON SALE 19th MARCH AT 
WWW.CLAIMTHETHRONE.COM/STORE 
BOARD 7.30PM – DEPART 8.00PM – RETURN 11.00PM 
BAR ON BOARD – NO BYO - 18+ LICENCED VENUE – BRING ID